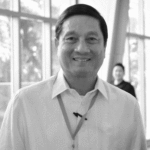 We started with a big vision for our beloved country. We fostered our mission to bring good governance in the spotlight. Together, we aspired to make public institutions strive for reform to have proud Filipinos lead enhanced and meaningful lives.
With a humble start of having just eight (8) partners from the local government sector in 2004, our endeavor with the Performance Governance System (PGS) has now grown to fifty (50) active partners – with  added sectors from health, peace and security, infrastructure and transportation, and education. This is a true testament to our advocacy, and its significance in capacitating our public sector and creating meaningful reforms for our nation.
This year's annual report narrates the ripples of our advocacy's impact to and through our partners. We are proud to celebrate the many strides and milestones that continue to serve as inspiration for more public institutions to join us in this journey towards a transformative, democratic but undivided Philippines.
Triumphant as we are in 2017, and honored as I am to celebrate our partners' globally-recognized breakthroughs, I say that having a good year is not enough. We need more of this flame to deliver our advocacy to more of our public institutions, officials, and fellow Filipinos worldwide. In the coming year, we believe that we could tap into even more sectors, and bring more partners in our journey towards our dream Philippines. And, we are optimistic that our various efforts, engagements, and interventions would continue to bring more Filipinos together.
This phase in our journey would not have been possible without our partners and donors who understood our goal of an empowered Philippines. We would not have fulfilled all these achievements without the dedication of our staff who continue to work hard as models of good governance. We would not exist if not for every individual who entrusted us with the responsibility of turning our vision into reality.
On behalf of the Board, I thank all our staff, members, and partners for a meaningful journey in bringing the public sector to the forefront of our dream Philippines. As we build our dream Philippines, I encourage all members to continue in their support for us, and take lead in this collaborative and united country of which we are building.