The importance of having more women in politics cannot be overstated, with women bringing a unique perspective to policymaking and program implementation, especially in areas that directly affect women and girls. However, this progress must continue beyond simply having more women in politics but also acknowledge the unique experiences and backgrounds of women. This Women's Month, let us celebrate the women who are already making a difference in governance and continue to empower women to overcome gender barriers.
Here are five women in governance that you should watch out for:
Senator Risa Hontiveros
Senator Risa Hontiveros tops the list as one of the most celebrated public servants and figures in the Philippines. A prominent figure in Congress for over 11 years, Sen. Hontiveros is a vocal advocate for health and women's rights, an accomplished activist, and an advocate for the marginalized. As the first socialist woman senator in the Philippines, she has gained national recognition for her tireless contributions to public service, including her work as the lead proponent of the Sexual Orientation and Gender Identity Expression Equality Bill.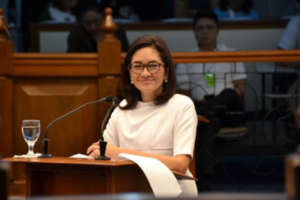 Photo from Facebook/Risa Hontiveros
In addition to her legislative accomplishments, Hontiveros has a background in neighborhood organizing, peace advocacy, and journalism, and was nominated for the Nobel Peace Prize in 2005 for her contributions as a member of the Government Panel for Peace Talks with the National Democratic Front. Among her many legislative achievements are the Expanded Maternity Leave Law and the Mental Health Law, which have had a profound impact on working mothers and mental health care in the Philippines.
Mayor Honey Lacuna 
Mayor Maria Sheilah "Honey" Lacuna-Pangan is a remarkable figure in the world of Philippine politics. Before entering public service, she made a name for herself as a resident physician of the dermatology department at Ospital ng Maynila Medical Center., equipping her with the necessary skills and knowledge to serve the people through public health. She then began her political career as a councilor of the 4th district of Manila and later served as the city's Vice Mayor.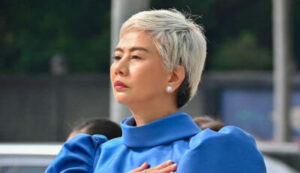 Photo from Facebook/Doktora Honey Lacuna
As the first female mayor of Manila, she has broken barriers and inspired other women to pursue leadership roles. She is a strong advocate for women's rights and empowerment and has dedicated herself to uplifting the marginalized sectors of Manila. One of her top priorities is to improve the city's healthcare services, especially amid the ongoing COVID-19 pandemic.
Mayor Joy Belmonte
Hailing from one of the most prominent political families in the country, Mayor Josefina "Joy" Belmonte has built a reputation for herself in the realm of politics. She currently serves as the 11th elected mayor of Quezon City. Prior to this, she served as Vice Mayor from 2010-2019 and chaired the Quezon City Anti-Drug Abuse Advisory Council (QCADAAC), which has been acknowledged as one of the most successful initiatives in the country in combating the issue of illegal drugs.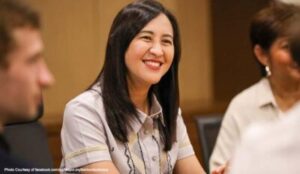 Photo from Facebook/Mayor Joy Belmonte
Mayor Belmonte is a strong advocate for the rights of women, children, and the LGBTQIA+ community. In recognition of the need to protect these vulnerable sectors, she spearheaded the establishment of the QC Protection Center for Women, Children, and LGBT++, a facility designed to provide victims of abuse with a comprehensive set of legal and medical services, among others.
Atty. Sha Elijah Dumama-Alba
Atty. Sha Elijah Dumama-Alba is the first-ever attorney general of the Bangsamoro Autonomous Region in Muslim Mindanao (BARMM). Recognized for her years of contribution to the peace process, the Moro Islamic Liberation Front appointed her a BARMM attorney general, giving her the authority to help craft new laws and advise on governance.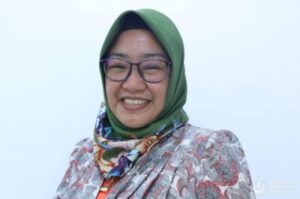 Photo from bangsamoro.gov.ph
As a Muslim woman, Atty. Dumama-Alba faced many challenges in her career, especially in a male-dominated field like politics. However, she persevered and became one of the few Muslim women leaders in the BARMM, which according to her, "sends a very strong message to young girls and young women."
Vice Mayor Dayang Iman Sahali
Vice Mayor Dayang Iman Sahali is a multi-faceted public servant in the municipality of Panglima Sugala in the province of Tawi-Tawi. She is also an entrepreneur, culture and arts advocate, and environmental champion of her community.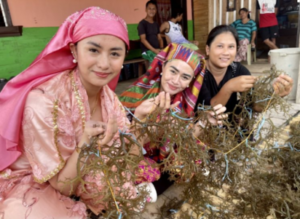 Vice Mayor Sahali (center) with her sister Alyssa (left). Photo from mb.com.ph
Among her many accomplishments, Vice Mayor Sahali is especially proud of her social enterprise, "Mangan by Iman," which she built with her sister, Alyssa Sahali. The enterprise produces the country's first-ever seaweed chips, using Tawi-Tawi's abundant seaweed resources. It not only promotes a healthy snack alternative but also creates livelihood opportunities for women and farmers in her community.
As we celebrate Women's Month, Let's draw inspiration from these remarkable women in public service that broke barriers in governance and beyond. They have shown us that gender and intersectionality should not be a hindrance to doing our part in building our Dream Philippines. By empowering others, redefining traditional gender roles, and challenging the status quo, we can turn our vision of an equal and just society, into reality.