Every governance practitioner aspires for lasting reform within their public institution, but only a few are equipped to learn, apply, and practice an equally long-term, sustainable framework. To help our partners bring their institutions to greater heights through the Performance Governance System (PGS) framework, the Institute for Solidarity in Asia (ISA) conducted the Governance Boot Camp – Master Class for National Government Agencies (MCN) last October 18 to 21.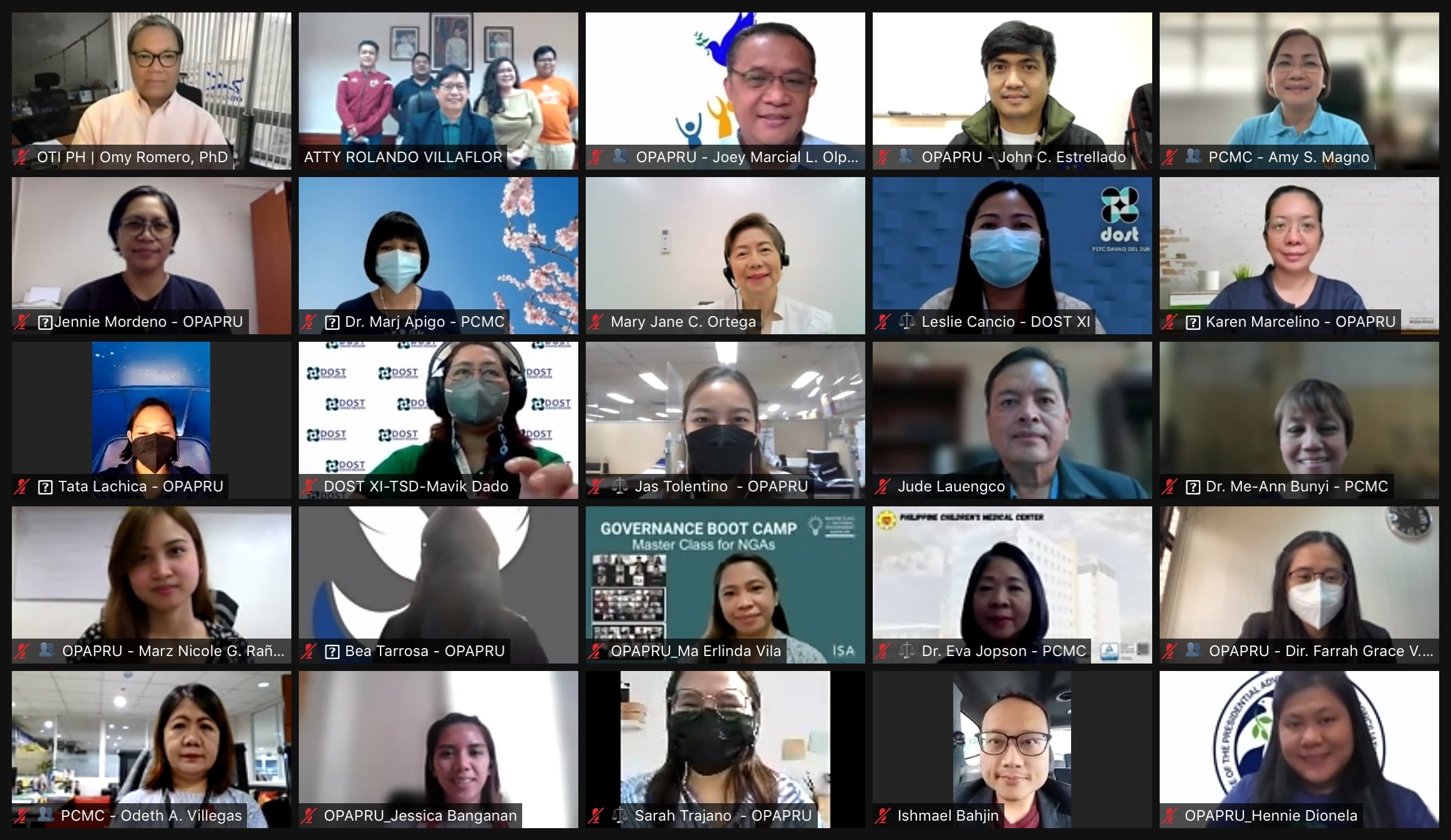 This four-day training program convened 27 delegates from national government agencies, including the Office of the Presidential Adviser on Peace, Reconciliation and Unity (OPAPRU), the Department of Science and Technology Region XI (DOST XI), and the Philippine Children's Medical Center (PCMC). The highly-anticipated program immersed the participants in workshops and case studies that would help them build their capacity as governance practitioners, share their best practices, and connect and collaborate with other governance practitioners. 
The program began with a lecture from Dr. Rene Francisco of the Dr. Paulino J. Garcia Memorial Research and Medical Center (PJG), where he discussed the three major challenges of his institution: pessimism, indifference and mediocrity, and resistance to change. Dr. Francisco's lecture also encompassed the cycle and ten C's of the PGS, which includes cascading, capacitating, and coaching. And as the featured partner in this session, he also shared an overview of PJG's transformation journey. 
"We want to change the mindset of many Filipinos about government hospitals. Ang pangarap natin para sa PJG ay kontribusyon natin tungo sa pangarap nating Pilipinas!" he said.
On the second day of the program, Mr. Eric T. Lanado of the Intellectual Property Office of the Philippines (IPOPHL) shared his knowledge on the 7-step process of planning and budgeting, the planning and budget cycle, and individual target setting. The delegates were then all ears on the Bureau of Customs (BOC) Head of the Office for Strategy Management, Mr. Michael Macapagal as he discussed BOC's transformation story and imparted best practices to the audience.
For the program's third session, Ms. Zy-za Suzara of iLead underscored the importance of participatory governance and dialogue. She emphasized that even if the dialogue is time and resource intensive, it is essential to the policymaking process.
"There's no way that we can participate in governance, no way that we can let civil society participation, the business sectors participate and collaborate in governance without that process of dialogues. Public dialogues are critical to participatory governance and we know that it involves listening, learning, [and] discussing with stakeholders to foster active and inclusive participation," she said.
This was then followed by another partner feature with Col. Rodrigo P. Magallanes MNSA (MI) PA, Chief of the Army Governance and Strategy Management Office (AGSMO), who shared key points regarding AGSMO's field of work, including International Humanitarian Law and the importance of participatory governance.
"We cannot attain vision without the participation of the citizenry we serve. The transformation journey is a shared responsibility," he said.
Capping off the training program was a series of lectures from notable speakers in the field of governance. Dr. Romulo Romero started the fourth session on the fourth day of the Boot Camp by facilitating a recap of the delegates' key takeaways from the previous lectures. This was followed with a best practice sharing by Philippine Veterans' Affairs Office (PVAO) Officer-in-Charge, Atty. Rolando Villaflor and ISA trustee and former San Fernando, La Union Mayor, Ms. Mary Jane Ortega, who also left a piece of advice on pursuing the PGS pathway with the audience.
"Leaders are people who do the right thing; managers are people who do things right," she said. 
Awarded as the MCN Ultimate Governance Warrior was Ms. Jennie Claire L. Mordeno of the Office of the Presidential Adviser on Peace, Reconciliation, and Unity, who then shared an inspiring message with her fellow governance practitioners, calling for support and solidarity.
"We are only here to support. As swords sharpening other swords, we are here to see others succeed in their PGS journey. Tuloy lang ang work. Go, Dream Philippines!" she said.