Past and present team members share field notes from the past ten years and suggest practical ways to live the governance advocacy today.
Many of us who have worked at the Institute for Solidarity in Asia (ISA) found our way to it by chance, pointed in its direction by schoolmates or job searches undertaken at make-or-break points in our young lives. Each of our stories begins fortuitously and, more importantly, continues on, spilling over into new careers.
There is much to be proud of and more to be done to improve ways of thinking and doing, not only in the public sector but also among ourselves. The reflections from past and present team members below are in tribute to that, and give a unique view of what it means to be a young person in governance.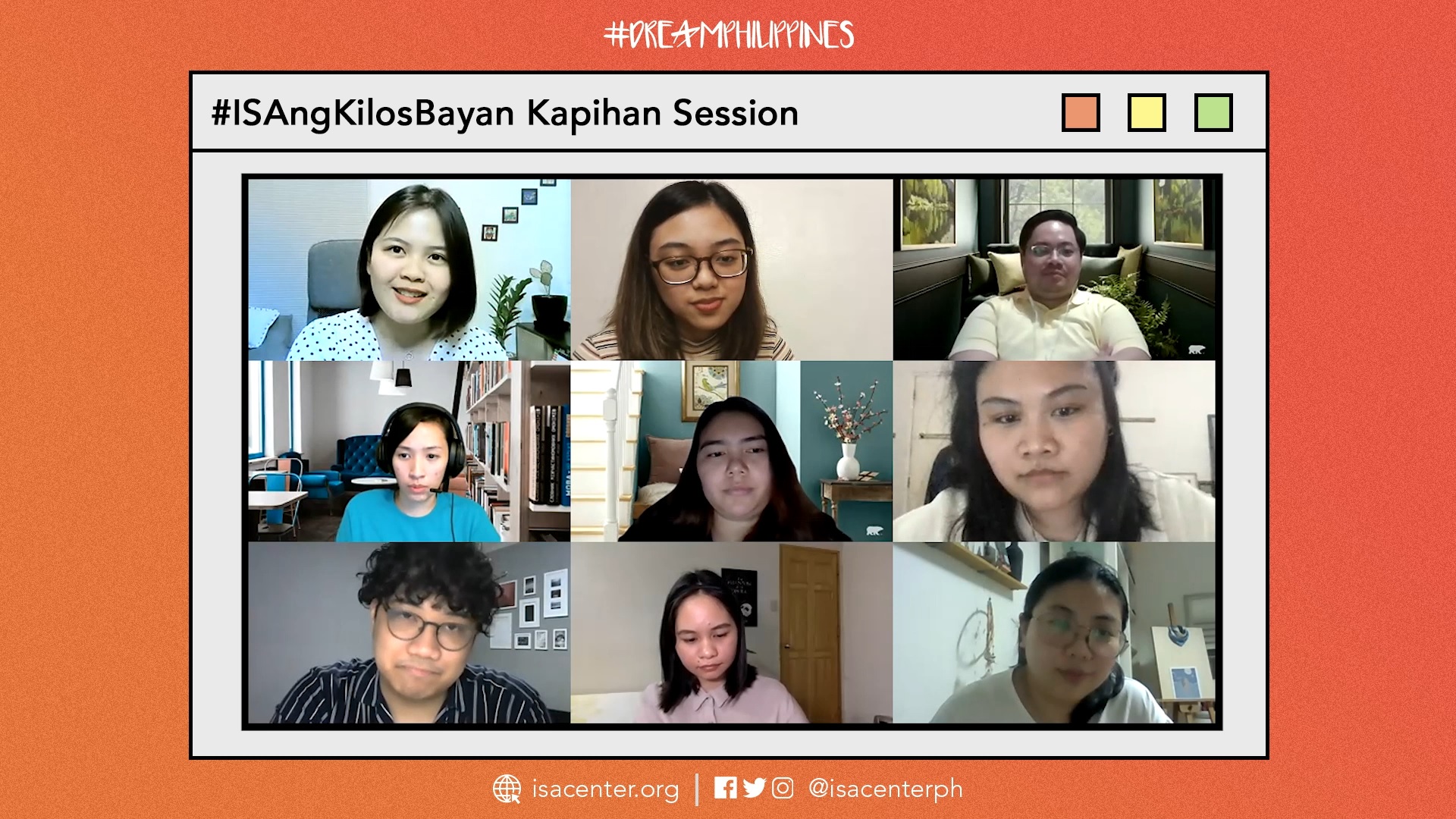 On encountering the governance advocacy
Guia Luistro, who currently heads ISA's Program Management Unit, says when she applied for a job at ISA eight years ago, she hoped it would give her the chance to work with some of the most admired names in government. But Luistro soon found that working at ISA promised something just as great—a chance to work in the trenches. Interestingly, she was assigned to work with military sector partners, who were the very same people she used to speak out against on social media.
"On my first day at work, I was sent to a meeting with the Philippine Army and introduced to the team I would be working with," she recalls. "It took just that one meeting to change my perception of what government is and of what people in government actually do." Most eye-opening of all was her discovery that there were bright spots in government if you knew where to look and where to give credit. "What made me stay was meeting people who shared my dreams and intentions for the country."
Luis Martinez, who has been advising and assisting local government partners for about five years now, agrees that working at ISA provides a perspective of government that is more whole. Having witnessed acts of corruption in a previous workplace, it took some time before he could let his guard down, but he eventually channeled this toward sharpening his instincts for development work.
"There are those who work in government because of personal interests," Martinez says. "And knowing that gave me a more realistic view of governance and a way to find out which of the people I was working with had truly developmental interests."
Meanwhile, one of the team's newest members, Sofia Talja, who is assigned to its growing roster of partners in the health hospital sector, appreciates that she has a front row seat to observing nuances in government culture. This has allowed her to discover that advocating for governance means looking at an entire organization and not just at the parts that are perceived to be broken. "It's interesting to be exposed to different groups within the organization and to see if the system works for all of them," Talja says. "Internal and external dynamics come into play and we are able to see how an organization reacts to change."
On experiences that left a mark
Former Program Coordinator Jonas Trinidad, who currently works in one of ISA's counterpart government offices, says that one of the best parts of the job was seeing the goals of partner organizations come to life. Trinidad was part of the team that piloted the "Islands of Good Governance" program, which showcased model national government agencies and local government units that could prove tangible improvements through governance.
One of the organizations he worked with under this program was the National Electrification Administration (NEA), whose mission is to electrify every last sitio in the country. "I remember making a five-hour trip up a mountain in Cebu to visit one of the newly electrified sitios," says Trinidad. "The reward of making it to the top was seeing how NEA's work had changed lives, making it possible for heads of families to run businesses and giving children more time to study."
For Jan-Ace Mendoza, who formerly headed the LGU program and who is currently on leave from Congress for graduate school in Japan, it was the welcoming spirit of one of his partner organizations, Balanga, that left a mark on him and enabled him to do his best work. "My first meeting with them was one I'll never forget," Mendoza shares. "It was the start of a long partnership, and from then on, every visit to Balanga felt like coming home." Mendoza eventually pursued a career in the House of Representatives, this time aiming to influence policy reforms in the 2nd District of Bataan.
Working with hospitals during COVID-19 showed Program Coordinator Stefanie Colet the extent to which her partner organizations were willing to continue working on their governance programs. Colet shares that it has been empowering for her to be a resource to them, especially at this time.
"Everything changed, especially for frontliners, so it's heartwarming and humbling to see that despite their current difficulties they're continuing to do their best," she says. "Just a few days ago a doctor from East Avenue Medical Center, which was preparing for its public revalida, called me up to ask for advice. That turned into a two- or three-hour conversation about the realities of working in a hospital and trying to improve it during a time that has been doubly challenging."
Talja, who also works with hospitals, shares that one of her early pre-pandemic experiences was a working session with Amai Pakpak Medical Center in Marawi.
"I didn't expect that I would ever be working in Marawi, which was still dealing with the effects of the siege," she says, "but it was good to find out that our work wasn't limited to Metro Manila and that we were going the distance to help develop partner organizations in other areas as well." Talja describes Marawi as a place where time seems to have stopped but where you could still find dedicated people with a heart for public service.
Former Resource Mobilization Coordinator Jyska Kuan-Ken, who was born and raised in Iloilo, says that one of the highlights of her stay in ISA was being involved in a regional competitiveness project, which sought to bring the governance advocacy to places that felt "disconnected" from Metro Manila. "When you talk of progress it is usually Metro Manila-centric," Kuan-Ken says. "Thinking of other regions is a mentality that most Filipinos don't have."
The regional competitiveness project in partnership with the Center for International Private Enterprise (CIPE) and the Department of Trade and Industry (DTI) brought Kuan-Ken to Tuguegarao, where she assisted in working sessions focused on its agricultural resources. "Tuguegarao is a rich source of nourishment but they lack support from the national government," she explains. "If regions that are considered to be 'food baskets' continue to be unsupported, Metro Manila would most definitely feel the effects, too." Kuan-Ken hopes that ISA can continue participating in regional competitiveness projects to help correct the idea that "Metro Manila is the Philippines" and to uplift regions that have the potential to outshine their ASEAN counterparts.
On spotlighting governance in unprecedented times
Looking back on the early days of the pandemic, Luistro says that what centered the team was to remember that the government agencies they were working with were their partners. "I like how we approached the situation and went back to why we refer to them, somewhat uniquely, as partners," she shares. Guided by this, the team found ways to assist them and to continue to introduce hopefulness into the realm of public discourse.
Among other issues, COVID-19 has spotlighted governance and its absence in many of the government agencies assigned to deal with the task at hand. The longer we remain in quarantine, the more we see the effects of being strategic or unstrategic, here in the Philippines and around the world. It has certainly given those of us who are aware of the difference governance can truly make, time to reflect on how we can continue to advocate for governance in our everyday lives.
Martinez believes that it may be the duty of those who have an insider view of how local and national government offices operate, to continue to be voices of reason for those who may have lost hope. "You need to be the one to remind people that there is good in our institutions despite the conflicting intentions of those who run them," says Martinez. "And that means being ready to have difficult conversations with those around you because as a Filipino, you owe it to them to help them understand." 
Kuan-Ken agrees. "It's tempting to give up on people we can't agree with, but it is in exactly these moments that we need to listen to where they're coming from," she says. "It's hard to be hopeful right now but to give up would be much worse. If I can be hopeful then at least I can say I did my best."
Mendoza notes that in advocating for governance, it is important to consider government's successes and failures, and not to dwell on one over the other in finding ways to move forward. "Governance work shifted me from being an optimist to being what the late physician Hans Rosling calls a 'possibilist'. This means laying the cards out on the table and looking at them with a sober mind to see which possibilities we can move forward with." 
"Being a governance advocate goes back to making governance a shared responsibility," Luistro says. "It's understanding what you can contribute given your talent, resources, and privilege so that you can help in your community as well as in the wider spectrum." Luistro adds that it has been inspiring for her to see that despite COVID-19 being difficult for everyone, people from all fields have found their own ways to help those dealing with the after-effects. "We are not the only ones who are governance advocates," she says. "Everybody who is doing what they can given what they have is already one."
Echoing this, Trinidad says that on the part of ordinary citizens, simple steps, practiced consistently, are key. "As citizens there are liberties we tend to take for granted but that are actually easy ways for us to advocate governance," he shares. "First, we can do purposeful work. Second, we can use our voices in opposition or in support of certain issues. Third, we can take it upon ourselves to initiate uncomfortable conversations that can in the end be illuminating."
On a period of youth devoted to governance
For a generation whose greatest strength is its self-awareness, something as instinctive as expressing our discontent at the broken systems we inherited already makes us governance advocates. And using our resources to uplift or enlighten others makes us even more so.
The privilege of witnessing all that we have witnessed as young people in governance has taught us that despite the many inconveniences of being a Filipino in these times, there is fundamental work that must still be done, and the invitation to do it extends to others in our generation and beyond—"no matter how long it takes".
---
Disclaimer: The views and statements expressed on this article and in the full feature video do not reflect those of the organization.
Author: Marielle Antonio